Not so long ago I decided to celebrate my birthdays from now on by visiting somewhere new and exciting, last year wanted to visit the Corral Bluffs in Colorado but it seems like you can't just go there any day instead visited the Garden of Gods which I absolutely love.
This year I had the resources to go on a week-long road trip and here are the highlights of the trip.
Planned route
The initial plan was to visit Arizona, but driving to Arizona without stopping anywhere didn't sound fun.
I decided to take a circular route, go west through Nevada, south through Utah to Arizona, and then back to the bay area from southern California.
Flat tire
on the way to Reno -the first stop- I got a flat tire, I had to pull over to the side of the road, replace the flat tire with the spare tire and drive extra slow until the hotel.
It was Friday night and there were no open tire shops, so not only I didn't have enough time to do anything in Reno but also I wasted half of Saturday trying to get my tires replaced and had to skip the next destination (that was Bonneville Salt Flats) as well as getting the budget of the trip quite messed up 😢
Mystic hot springs
I haven't been to a hot spring before so this is a first-time experience and it's setting my expectations for hot springs.
Hot water, nice weather, and spectacular views, 😮 that was amazing, I was telling myself that maybe 2 hours are not enough there and I should spend the day there, it was amazing.
Also, I left before the two hours even, apparently, I suck at just relaxing (I'm even writing this article instead of just watching a movie and relaxing after work 😃).
Bryce Canyon national park
Well, the plan included visiting a couple of national parks so I had America the beautiful card (which grants you entry to national parks for a year, have to use it about 3 times to have any savings on it which was done in this trip 😉).
On the way to Bryce Canyon passed by these beautiful red rocks that I just had to pull over to look around and take a picture, found out that it was a red rock national forest.
Bryce Canyon is such a dusty and beautiful place, had a couple of trails that I wanted to hike, and just by being lost found myself combining both of the trails 😄
Being lost was unfortunate for my poor body and skin (ran out of water and got dehydrated for a bit 😞) but fortunate for someone else, I found a lost phone and successfully returned it to its owner, or hopefully, it made it to its owner, I told them I will leave it with a staff member in a specific location which I did.
Zion Park and Angels Landing
The next day I went to Zion Park, which was Monday already, there is no park that should be that crowded on a weekday, I don't get it at all.
But this one of the craziest experiences in my life, the only place I've been to in Zion Park is Angels Landing trail, this one requires a permit which is I was lucky to get (It's a lottery permit), some people say it's the most dangerous hike in the US, well not sure about "Most Dangerous" but indeed it was such a dangerous hike.
I went to the hike prepared with some grapes, 2 and a half liters of water, an apple, and yellow pepper. They all were gone before I was done with the hike.
I've been to way longer hikes before, but the first part of the hike is a very steep upward trail and the second part is such a skinny rock bridge with some chains.
Let me tell you, having a picnic at the peak was the most rewarding feeling of the year.
Getting to Arizona
After this, started moving forward to Arizona, I was super tired so some chill activities would feel great, went to Horse Shoe bend which is a couple of minutes' trail that ends with a very beautiful view.
After that went to Lower Antelope Canyon, which looks very beautiful but for some reason can only go with a tour guide which probably doesn't add much also the tour is overpriced compared to the other experiences I had on the trip.
Grand Canyon
It's Wednesday and it's time to visit Grand Canyon, it is really such a grand canyon.
Been on the trip for a long time already and I was so tired, did only a few minutes of walking on a couple of trails and if it wasn't for how beautiful it is I wouldn't be able to spend a whole hour there. (Note to my future self, my trips capacity is about 4 days if the program is packed)
Arco Santi
My next stop was Sedona, stayed the night there (and did laundry 🤓), the original plan was to hike in the morning and then head to Arco Santi, but I preferred to sleep in 😴
I went to Arco Santi (and it's my birthday so yay 🥳). If you don't what this is, it's an urban laboratory, designed by an Italian-American architect called Paolo Soleri.
The reason I've wanted to visit this place is that I read about it a while ago when I've seen an art major classmate sharing a drawing about it on Instagram.
Going home
My next destination was a state park near Phoenix called Lost Dutchman, It was literally a dessert and it was super hot 🥵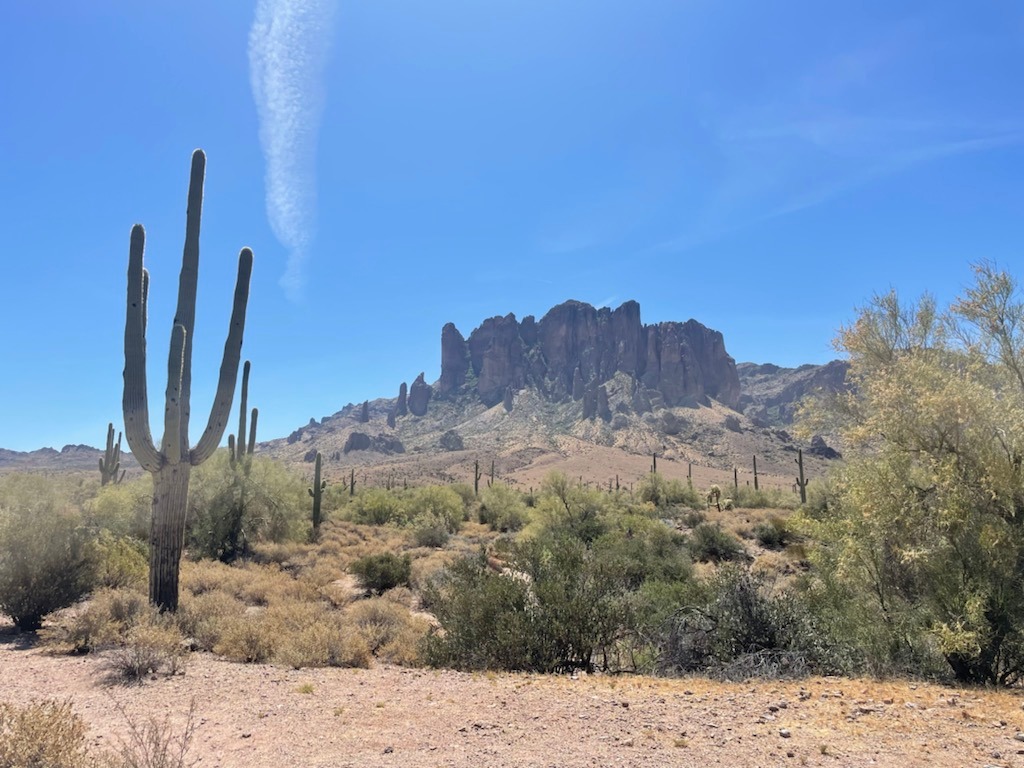 After being absolutely impressed by how huge the cacti are, decided to call it a trip and head home where I can finally rest my neck, shoulders, and back.
Aside from getting tired and overwhelmed by all the activities, driving had a very expensive physical toll on me as well.
It is amazing how many places I would visit again multiple times because there is much more to it than what I have experienced, and many more places that I didn't stop by because I had to cherry-pick destinations that would fit into my time plan and help put together an easy route.
That's good news because I will never worry about finding somewhere exciting to visit for all of my next birthdays.